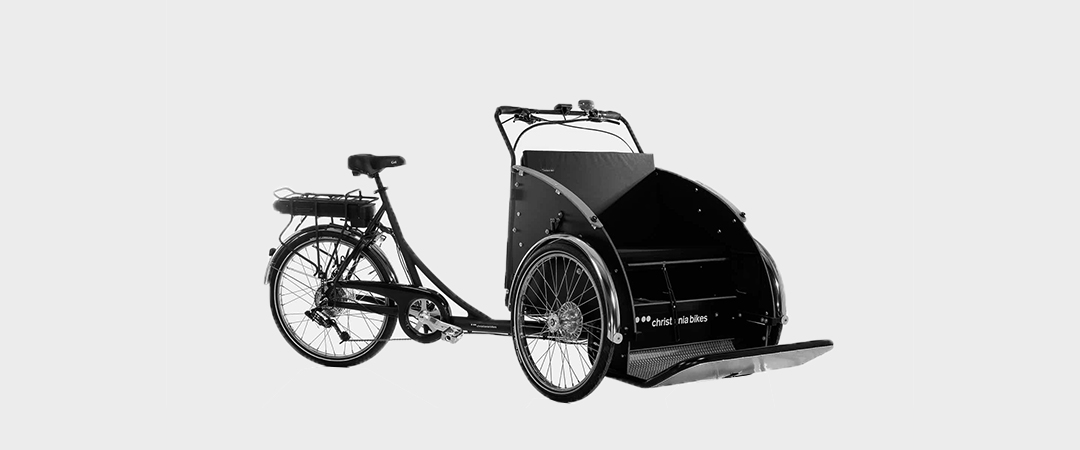 EUR 6.000,00
+ packaging & freight from Denmark (EUR 730-930)
Not including blanket (EUR 250)
USD 6.995,00
+ packaging & freight from Denmark (USD 2,075)*
Not including blanket (USD 300)
*USD prices calculated per May 1, 2020 after incurring a corona-related price increase of 4.5%. Ask for a quote to get an accurate, current price. All USD prices are subject to currency exchange fluctuations and are based on payment via bank transfer.
About the bike
The Christiania is a classic in Cycling Without Age. When founder Ole Kassow started the organization in 2012 he used an old rented, de-commissioned Christiania. The model had gone out of production, but the blacksmith was intrigued by the idea of using the trishaw as a social tool and was easily talked into re-starting the production of their old model.
Cycling Without Age helped Christiania introduce several improvements making it more elderly-friendly. Such features as a lowerable footrest, softer cushions, and a chat window were developed by local Cycling Without Age affiliates and inspired Christiania to improve their model.
Product information
Motor – 250 Watts
Battery – Li-on / 36V / 13.6 Ah / 490 Wh
Assist levels – 4 levels
Nom 40 Nm
Wheel Sizes – 26" (hydraulic disc brake)
Walk assist from 0-6 km/h – Throttle to activate e-power system
Length: 237cm
Width: 110 cm
Height: 100 cm
Weight: 59 kg
Seat width: 74 cm
Warm, weather-proof blanket designed by Rigmor Wiberg
The blanket is custom-made for each trishaw model and comes with all the appropriate straps and buttons. On the inside it features a set of muffs for the passengers to use for warmth, to hold on to and snuggle into the blanket. If you're in a warm climate, the blanket can also be made in a non-padded version.
Battery registration
Remember to register your Promovec-battery within 8 days of the purchase. Register here!
The parking brake
The cable-mounted brakes can be adjusted manually on the brake lever.
Hydraulic brakes are tightened by using a 2 mm unbraco at the brake lever.