Social and solidarity economy
A business typically keeps 20% of the price you pay for a product. Copenhagen Cycles is different. We consistently donate substantial portions of our profits to Cycling Without Age. We believe in the Social and Solidarity Economy, and in investing in the values we believe in.
Copenhagen Cycles has so far donated a total of €930,000 and we want to give even more. You can help us achieve that goal. The money you spend determines how much Cycling Without Age will grow its impact worldwide, as Copenhagen Cycles is, by far, the biggest sponsor of Cycling Without Age. We are proud to have given Cycling Without Age affiliates in Lagos (Nigeria) and Sikasso (Mali) the opportunity to start the programme, we have donated trishaws to affiliates all over the world and we develop new trishaw models and accessories to be able to best cater for all Cycling Without Age heroes around the world.
Luckily you will not even have to compromise when you make your purchase. Your trishaw is delivered having had its first service, and branded with Cycling Without Age logos and merchandise, we will make sure your trishaw receives a blessing from our dedicated colleagues before leaving the Danish territory, and our mechanic is on call to listen to any concerns from your side. All this at the same cost as buying your trishaw anywhere else. We hope you can see the benefit of supporting Cycling Without Age this way. If you decide to buy your trishaw from a different source, we want you to know that you are still awesome. Trishaws have the ability to change the world and we need more of them to make this world a better place.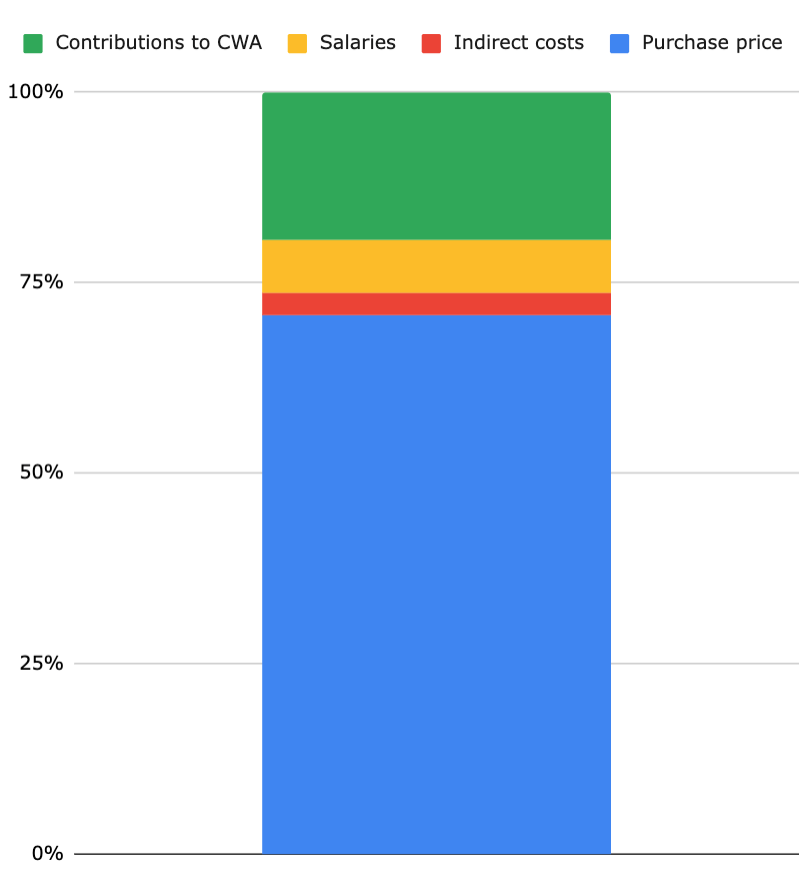 19,4%
Copenhagen Cycles commits substantial amounts of its margin to Cycling Without Age. Our social enterprise exists to support Cycling Without Age. We can sell you a trishaw at market rate and still fund an entire global impactful social movement, because we value social impact over financial gains.
6,9%
Salaries to our employees. We believe we offer decent conditions to our employees, and that's 6,9% of what you'll pay for a trishaw.
3%
The indirect costs are for renting our office space in Copenhagen, storage space, stickers, salaries, insurance, travel expenses, tools, phones, bank fees, marketing, web hosting, all the boring stuff as well as the annual office Christmas party.
70,7%
This is what your beautiful trishaw costs to make. Natural resources and human labour are needed to design, print, cut, screw, paint, tighten, test and develop this complex and beautiful piece of equipment. Copenhagen Cycles has negotiated a discount on most trishaw models, as we buy in bulk, this means we can sell it to you at market rate and still give a donation to Cycling Without Age.