OUR PARTNERSHIP WITH CYCLING WITHOUT AGE
Copenhagen Cycles is a social enterprise that has been created to support Cycling Without Age financially. We are committed to helping Cycling Without Age affiliates all over the world get access to trishaws and offer bike rides in the local communities. Our most recent project has been to help affiliates in the Global South get trishaws. Together with Cycling Without Age we've shipped bikes to countries such as Mali and Nigeria.
When you purchase your trishaw through Copenhagen Cycles, you have a direct positive impact on our ability to help more elders around the world feel the wind in their hair.
CUSTOMER SUPPORT
We offer excellent and quick online customer support. You can reach out to our suppert hotline at support@copenhagencycles.com and our support team will do their best to resolve your issue quickly and efficiently.
In order for us to help you in the best way possible, please have the following ready: purchase invoice and/or name of bike model as well as photo of the issue (if relevant for the situation).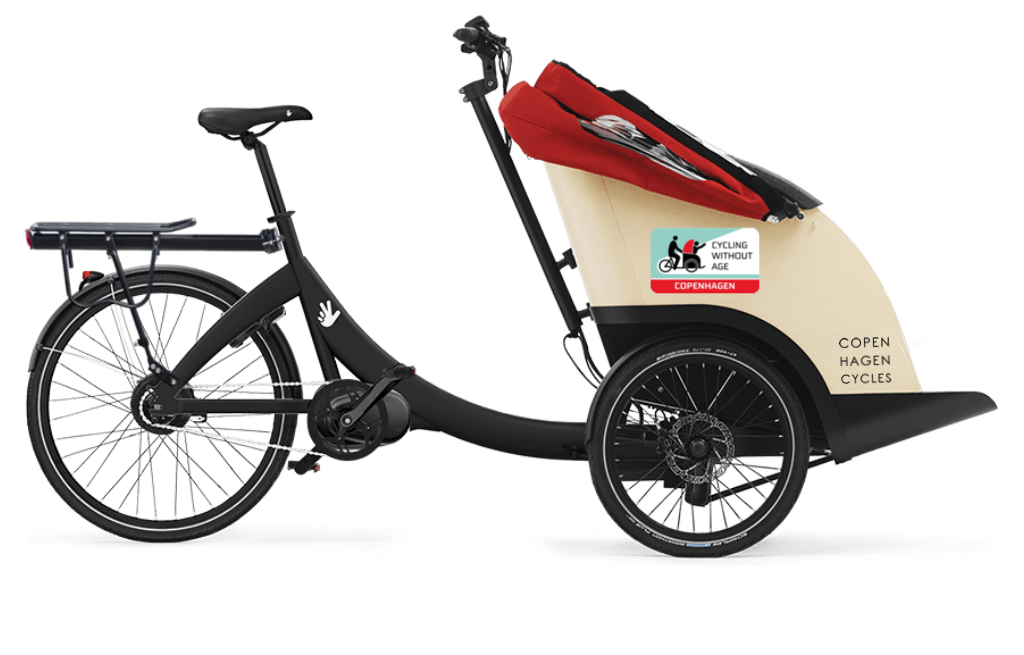 Triobike Taxi (Torque 90 Nm, 250W mid-drive) with Gates Belt Drive
About the bike
The new Triobike Taxi is easy to ride, steer and comfortable for rider and passenger. It is designed to be practical and stylish at the same time. It's primarily designed to carry adults, especially elderly people but also anyone with mobility issues. With 90 cm of inner width, the passenger seat is among the most spacious on the market. Its ergonomic design ensures a very relaxed sitting position as well.
Product information
Motor – 250 Watts
Battery – Li-on / 36V / 17 Ah / 508 Wh
Assist levels – 4 levels
Torque 90 Nm
Wheel Size – 26" rear, 20″ front (hydraulic disc brake)
Walk assist from 0-6 km/h – Switch to activate the
e-power
system
Length: 225 cm
Width: 106 cm
Height: 113 cm
Weight: 53 kg
Payload: 160kg (front box) / 190kg (total)
Compare to other models
| | | | | | | | |
| --- | --- | --- | --- | --- | --- | --- | --- |
| | Triobike Taxi (Torque 90 Nm, 250W Brose mid-drive) | Triobike Taxi (Torque 90 Nm, 250W Brose mid-drive) with Gates Belt Drive | Nihola Taxi (Torque 40 Nm, 250W Promovec rear-drive and upgraded battery) | Nihola Flex 2.0 (Torque 40 Nm, 250W Promovec rear-drive and upgraded battery) | Christiania Taxi (Promovec, rear drive) | Christiania Taxi (Shimano STEPS, mid drive) | Van Raam Chat |
| Battery type | Brose (BMZ UR-V5 501 WH) | Brose (BMZ UR-V5 501 WH) | Promovec (15,6Ah, 36V) | Promovec (15,6Ah, 36V) | Promovec (17,4Ah, 36V) | Promovec (17,3Ah, 36V) | Celestron (Slim Li-ion, 13 Ah) |
| Gears | Shimano Nexus 5 Speed | Enviolo Stepless (CVP) | Shimano Nexus 8 speed | Shimano Nexus 8 speed | Shimano Nexus 8 speed | Shimano Nexus 5 Speed | 8 Speed |
| Size (cm) | L225 x W106 x H113 | L225 x W106 x H113 | L225 x W90,5 x H108 | L215 x W99 x H117 | L237 x W99 x H110 | L237 x W99 x H110 | L232 x W111 x H117 |
| Seat width (cm) | 89 | 89 | 94 | 68 | 74 | 74 | 100 |
| Payload on box (kg) | 160 | 160 | – | 120 | 160 | 160 | 200 |
| Total weight (kg) | 190 | 190 | 250 | 220 | 319 | 319 | 320 |
| Bike weight (kg) | 53 | 53 | 53 | 53 | 59 | 59 | 97 |
| Walk assist | Yes | Yes | Yes | Yes | Yes | Yes | Yes |
| Reverse | No | No | No | No | No | No | Yes |
| Canopy included | Yes | Yes | Yes | No | Yes | Yes | Yes |
The Duffel by Rigmor Wiberg
USD 425.00
+ shipping (USD 100)
The Blanket by Rigmor Wiberg
USD 350.00
+ shipping (USD 100)
The Shelter by Rigmor Wiberg
USD 500.00
+ shipping (USD 100)
The People's Poncho (3 pcs)
USD 250.00
+ shipping (USD 100)