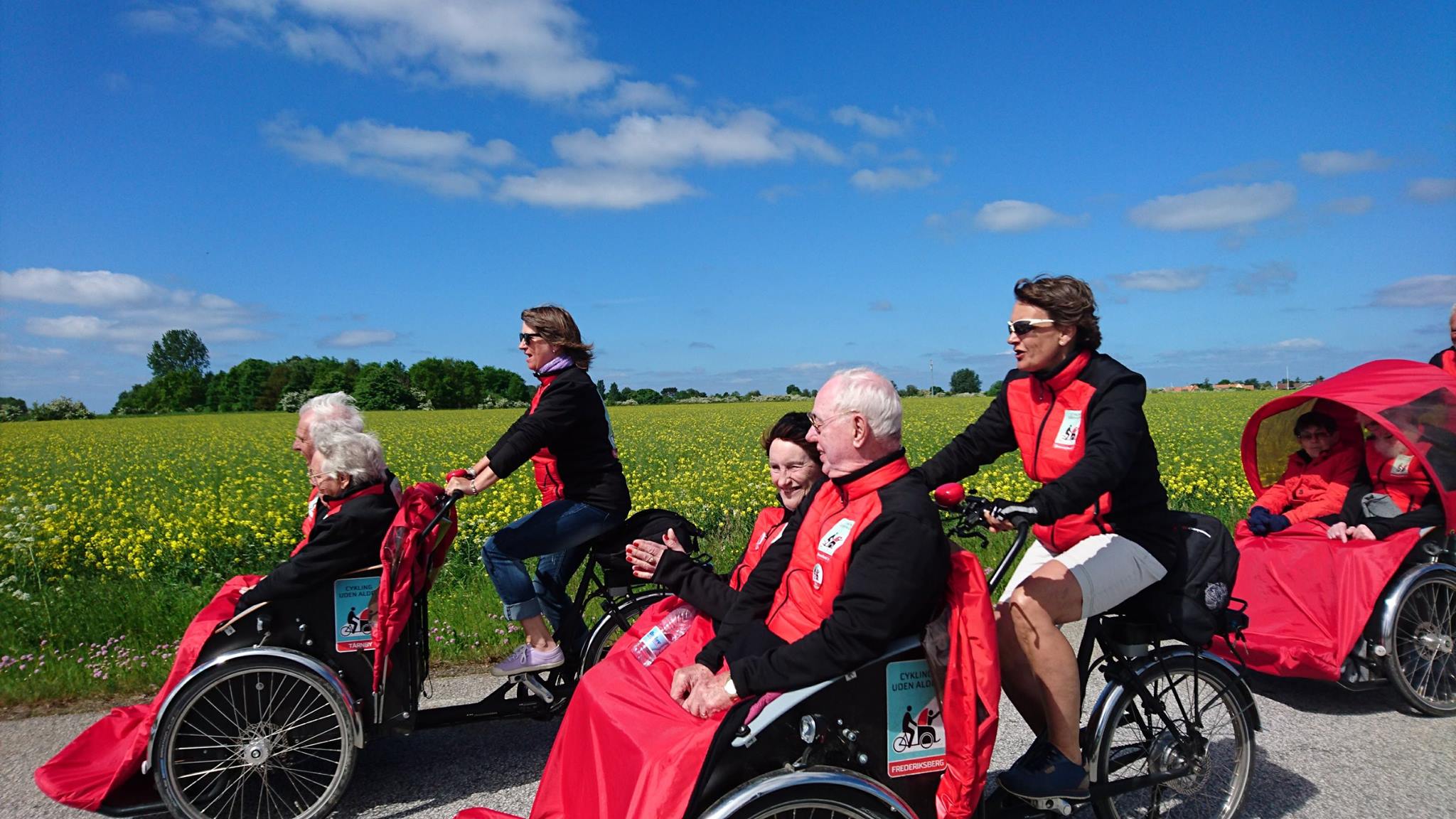 Christiania Taxi (Promovec, rear drive)
DKK 35
,000.00 + moms
Indeholder kaleche, hydraliske forbremser, godkendt lås, lygter, ringeklokke, goodies lomme, servicerabat og byklistermærker
+ Transport (1500-3000 DKK)*
+ Tilføj the Blanket, the Duffel eller the Shelter 
Læs mere om fordelene ved at være kunde i Danmark her
Du kan modtage tilbud på alle Christiania Bikes modeller, hvis du skriver en mail.
Christiania Taxi (Shimano STEPS, mid drive)
DKK 
40,200.00 + moms
Indeholder kaleche, hydraliske forbremser, godkendt lås, lygter, ringeklokke, goodies lomme, servicerabat og byklistermærker
+ Transport (1500-3000 DKK)*
+ Tilføj the Blanket, the Duffel eller the Shelter 
Læs mere om fordelene ved at være kunde i Danmark her
Information om cyklen
Christianiacyklen er en klassisker hos Cykling uden alder. Da CUA's grundlægger, Ole Kassow, startede organisationen i 2012 brugte han en gammel Christianiacykel (Model T som senere er blevet omdøbt til "Cykling uden alder modellen"). Modellen blev ikke længere produceret af Christiania, men efter opblomstringen valgte de at genoptage productionen. Cykling uden alder fik lov til at komme med indover prodcutionen og gav idéer til forbedringer såsom den nedsænkelige fodbakke, blødere puder og samtalevinduet, som vi alle kender det i dag. 
Produkt information
Motor – 250 Watts
Batteri – Li-on / 36V / 13.6 Ah / 490 Wh
Assist – 4-5 niveauer
Torque – 40 Nm
Hjulstørrelse – 26" (hydraliske bremser)
Walk assist fra 0-6 km/t
Længde: 237cm
Bredde: 99 cm
Højde: 110 cm
Sædebredde: 74 cm
Vægt: 59 kg
Nyttelast: 160 kg (front) / 319kg (total)
Sammenlign med andre modeller
| | | | | | | | |
| --- | --- | --- | --- | --- | --- | --- | --- |
| | Triobike Taxi (Torque 90 Nm, 250W Brose mid-drive) | Triobike Taxi (Torque 90 Nm, 250W Brose mid-drive) with Gates Belt Drive | Nihola Taxi (Torque 40 Nm, 250W Promovec rear-drive and upgraded battery) | Nihola Flex 2.0 (Torque 40 Nm, 250W Promovec rear-drive and upgraded battery) | Christiania Taxi (Promovec, rear drive) | Christiania Taxi (Shimano STEPS, mid drive) | Van Raam Chat |
| Battery type | Brose (BMZ UR-V5 501 WH) | Brose (BMZ UR-V5 501 WH) | Promovec (15,6Ah, 36V) | Promovec (15,6Ah, 36V) | Promovec (17,4Ah, 36V) | Promovec (17,3Ah, 36V) | Celestron (Slim Li-ion, 13 Ah) |
| Gears | Shimano Nexus 5 Speed | Enviolo Stepless (CVP) | Shimano Nexus 8 speed | Shimano Nexus 8 speed | Shimano Nexus 8 speed | Shimano Nexus 5 Speed | 8 Speed |
| Size (cm) | L225 x W106 x H113 | L225 x W106 x H113 | L225 x W90,5 x H108 | L215 x W99 x H117 | L237 x W99 x H110 | L237 x W99 x H110 | L232 x W111 x H117 |
| Seat width (cm) | 89 | 89 | 94 | 68 | 74 | 74 | 100 |
| Payload on box (kg) | 160 | 160 | – | 120 | 160 | 160 | 200 |
| Total weight (kg) | 190 | 190 | 250 | 220 | 319 | 319 | 320 |
| Bike weight (kg) | 53 | 53 | 53 | 53 | 59 | 59 | 97 |
| Walk assist | Yes | Yes | Yes | Yes | Yes | Yes | Yes |
| Reverse | No | No | No | No | No | No | Yes |
| Canopy included | Yes | Yes | Yes | No | Yes | Yes | Yes |