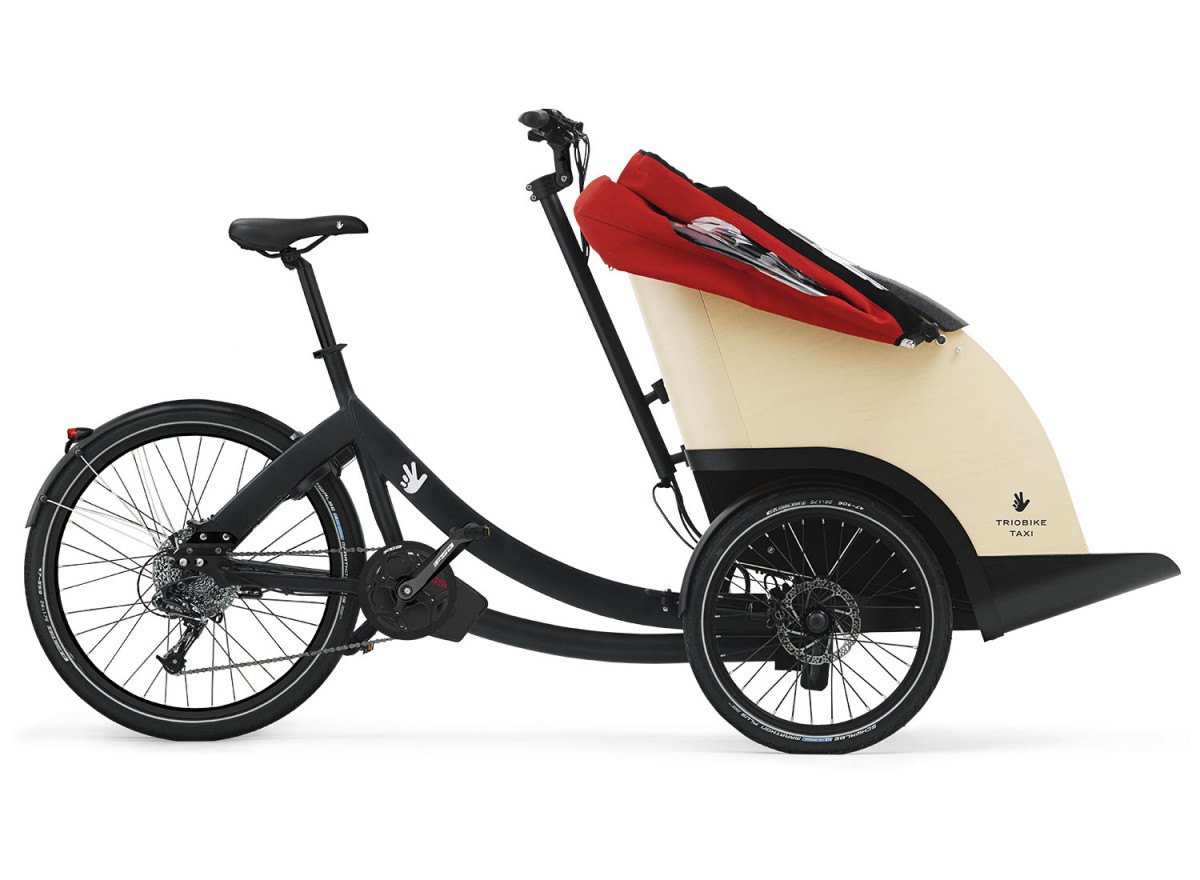 Triobike Taxi (Torque 90 Nm, 250W Brose mid-drive)
*USD prices calculated per December 29th, 2020. Ask for a quote to get an accurate, current price. All USD prices are subject to currency exchange fluctuations and are based on payment via bank transfer.
We are able to provide quotes for other Triobike models upon request.
About the bike
The new Triobike Taxi is easy to ride, steer and comfortable for rider and passenger. It is designed to be practical and stylish at the same time. It's primarily designed to carry adults, especially elderly people but also anyone with mobility issues. With 90 cm of inner width, the passenger seat is among the most spacious on the market. Its ergonomic design ensures a very relaxed sitting position as well.
Product information
Motor – 250 Watts
Battery – Li-on / 36V / 17 Ah / 508 Wh
Assist levels – 4 levels 
Torque 90 Nm
Wheel Size – 26" rear, 20″ front (hydraulic disc brake)
Walk assist from 0-6 km/h – Switch to activate the e-power system
Length: 225 cm
Width: 106 cm
Height: 113 cm
Weight: 53 kg
Warranty
All Triobikes have a 2 year warranty period. Please direct all claims to Ciara Kassow at ciara@copenhagencycles.com
Triobike frame number
On Trio trishaws, you can find the frame number on the seatpost just below the saddle. It starts with WTRIO with 4 following digits and a letter.
Tribike passenger box assembly video
Fitting the bike stickers
Chargers
Only use the charger that came with the bike. If you have a BROSE (Mid-drive motor) only use the BMZ charger. When charging the BROSE connect the charger to the back end of the battery by removing the small plastic lid that covers the outlet.
You can in any hardware store buy an adapter that allows you to use the European plugs in your country.
Removing the Brose battery
The parking brake
Firmly clench the grip towards yourself and you will be able to shift the latch.